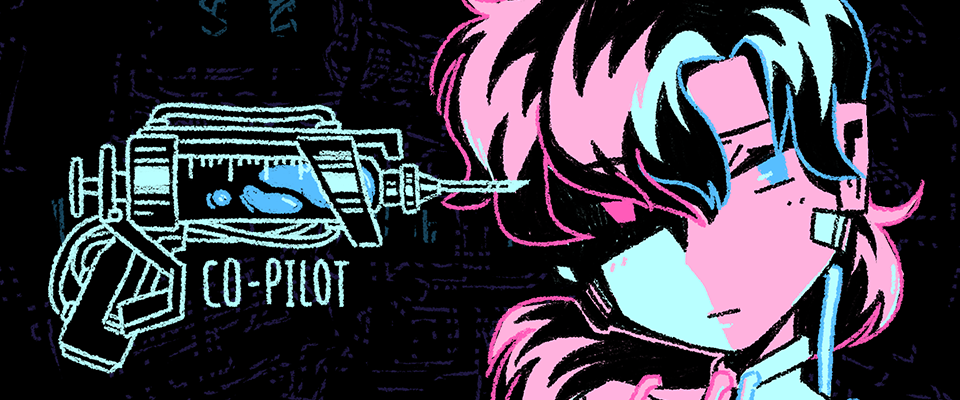 Co-Pilot
A downloadable Visual Novel for Windows and macOS
The job of a pilot is taxing; non-stop work, hyper-specific scheduling, with only soulless computer screens for company. In order to help Pilot cope, her mind is split into two. Maybe she can keep herself company.

I challenged myself to make a short visual novel in 3 days. I'd been sitting on this idea for a while, but was finally motivated to make it, mainly because I am stuck inside and have nothing else to do but social-distancing and Animal Crossing. Thank you coronavirus. Anyway, please enjoy! - Denny
Instagram | Facebook | Tumblr | Twitter | Twitch | Behind the Scenes | OST
Download
Click download now to get access to the following files:
Co-Pilot-1.0-pc.zip
57 MB
Co-Pilot-1.0-mac.zip
40 MB
Comments
Log in with itch.io to leave a comment.
is it weird I ship the pilot and the double together?
TIME FOR ME TO WRITE FANFICTION ABOUT THESE TWO
Although short, I felt that this game was really interesting! I was somewhat surprised when it showed 'The End' and was hoping there was more.
wow thanks for making a gameplay video!! maybe a long time from now i'll build on this little game :3 thank you for playing!
this was a really lovely little game. the sound, the use of color, and everything else about it made me feel melancholy in a way like floating on the surface of a pool. and that's a good thing.
thank you for this!
Reminds me of Tron with the aesthetic.